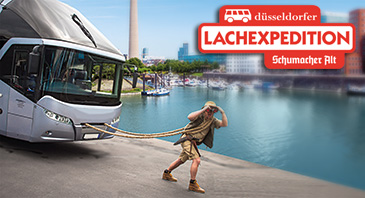 Düsseldorfer Lachexpedition
The funniest city tour through Düsseldorf!
The Düsseldorfer Lachexpedition combines the finest comedy entertainment with a tangible city history.
Get in for a sightseeing tour where no eye remains dry: From the Burgplatz to the Japanese quarter, from Heinrich Heine to Persil – the anecdotes of this extraordinary sightseeing tour will show you a city that, in addition to lots of class, always has room for a good joke.
An infotainment experience that should not be missed. Just get in, drive off and have fun without end!
for more informationen : http://www. lachexpedition. de/touren/duesseldorfer-lachexpedition/
Picture Düsseldorf Marketing und Tourismus